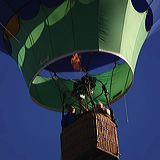 The sky is filled them.
I did a quick search for the difference in temperature between in the inside and outside of the balloon and couldn't find a number. Maybe you know?
In case you're interested: http://www.wickerbasketballooncenter.com/hot-air-balloon-history.htm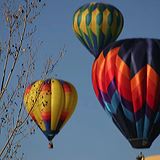 Today is moving day for the office! Pack everything up and move it to the interim location. It will be sad to move. The office is really nice, but it doesn't make sense to keep it when we are heading to SoCal for the winter.
Oh, by the way, legs feel a lot better today. I should be over the hump.