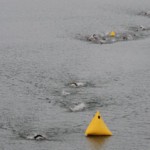 Jordan's support and split crew where in place and excited to help in any way we could. El Kwazito and I were up early (well not as early as we would have been had been staying with an athlete!) to catch the swimmers from the bridge. We thought the race started at 6:50A, but based on the times, we think it actually started at 6:45. But then again, my math skills aren't what they used to be…
After the swim exit, we rode to about the 4 mile mark of the bike and set up shop there. We found a nice concrete barrier from the wind, and spent a good portion of our morning hiding behind it while waiting for the athletes to go by again, with a 3 loop course, we got to see them twice per lap.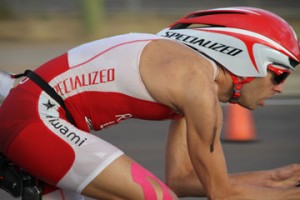 Of the first 3 men to go by Reed & Henning were the two I knew. Reed is hard to miss because he's 30 feet tall and Rasmus is in red and white decked out in his specialized kit tucked right in behind Reed using about 25 watts to stay there. Four or so minutes later, Jordan came by with 6 or so people in tow. I'm not sure who, but my good friend, the articulate Steve Brown would call them all Cheatin' Bastards! Jordan eventually rode them all off his wheel except Lieto, and ended up leading before the halfway point. It was great to see him back in front after the year he had.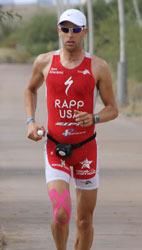 The run was long – for crimini sakes – 26 miles is a long time to run –  almost 3 hours is a long distance. In any case the results are out and you probably know them, Jordan 4th and and a little grumpy for the last 6 miles or so, but once across the line, very pleased, and rightfully so.
Parents and in-laws, wife, roommate and tag along (no one of consequence) all had dinner afterwards and celebrated the good fortune and hard work that got Jordan back to the top of the sport again.
The Kwaz and I are still waiting for the shooting of Jordan's post race dance video. He's up against some pretty stiff competition here, so I wish him well and suggest he doesn't hold anything back. As with most types of performances, you need to commit 100% or not at all! Let's go Jordan…..